Energy Theft
UGI is committed to ensuring the safety of our customers and the communities that we serve. We work hard every day to deliver safe, reliable service to our customers.
Theft of energy by tampering with or bypassing the meter in order to receive utility service free of charge puts everyone at risk and can result in personal injury or damage. It is also a serious crime. Stealing energy increases costs to the company and all honest customers. It also poses a significant safety risk.
What to look for:
Tampered meters
An installed bypass around a meter
Anything that doesn't look normal about pipelines or meter
When we become aware that UGI's facilities have been tampered with we immediately take the necessary steps to protect the safety of potentially affected people, property and our facilities.
UGI will aggressively pursue collection of the dollars owed to the Company and can take legal action when theft of gas occurs.
Call UGI immediately at 800-276-2722 or email RevenueProtection@ugi.com if you become aware of, or suspect meter tampering or service theft. UGI will keep your report confidential. Your effort could save people from harm.
Pipeline Ownership
As a reminder, pipelines up to the meter, as well as the meter itself, are the property of UGI Utilities. UGI requires 24/7 access to those facilities from the customer.
All work on UGI facilities must be approved and performed by trained technicians who have passed strict operator qualification requirements designed to protect the safety of customers, operators and the public.
Piping after the meter is the responsibility of the property owner.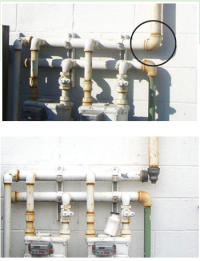 An example of an illegal meter bypass installed by a UGI business customer is circled in the top photo. The bottom photo shows the meter after the bypass was removed.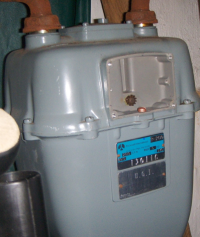 In the photo above, a theft of gas involved the removal of the ERT and index from the meter (which registers the amount of gas used) to mask usage for a period of a few days at a time to hide heating costs.